Paul Va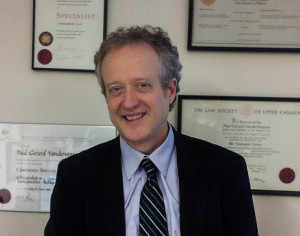 nderVennen graduated from Osgoode Hall Law School in Toronto in 1985, and was called to the Ontario Bar in 1987. In 1987 he started his own law firm which was primarily dedicated to the practice of Canadian immigration law. Since 1995 he has worked exclusively in the field of Immigration Law. He was certified as a Specialist in Immigration Law by the Law Society of Upper Canada in 1997.
Mr. VanderVennen has extensive experience in representing clients in immigration law matters including applicants for immigrant visas as refugee claimants in refugee determination hearings, appeals to the Refugee Appeal Division and Federal Court of Canada and sponsorship applications and appeals.
Mr. VanderVennen is a member of the Law Society of Upper Canada, the Canadian Bar Association, Canadian Association of Refugee Lawyers, the Refugee Lawyers Association and the Legal Aid Area Committee. He is past Treasurer of the Inter-Church Committee for Human Rights in Latin America and has served as an international election monitor and as a member of a human rights fact-finding delegation to Central America. Mr. VanderVennen has traveled to Dubai, Malaysia, China, Ethiopia, Bangladesh and Pakistan where he has spoken to thousands of people who are interested in immigrating to Canada. He has co-hosted a weekly national television show which provided information regarding Canadian immigration law and serves as a volunteer lawyer at a clinic providing immigration assistance to low income persons.
---
Mewded Mengesha completed his LL.M at Osgoode Hall Law School in 2019 and was called to the Ontario Bar in 2020. He was also educated in Sweden, where he studied International Human Rights Law at Lund University's Faculty of Law, and received a Bachelor's of Law Degree from Mekelle University, Ethiopia.
In Canada, he has worked with several law offices including Legal Aid Ontario Clinics, assisting low-income Ontarians in various legal matters. Prior to joining Paul VanderVennen as an Associate Lawyer in June 2021, he was an articling
student for Mr. VanderVennen and gained extensive work experience in the context of
Immigration and Refugee Law. Further, Mewded remains active member of various professional
associations including the Canadian Association of Refugee Lawyers (CARL), the Canadian
Immigration Lawyers Association (CILA) and the Refugee Lawyers Association (RLA).
After completing his own immigration to Canada, Mewded understands too well how frustrating
and confusing the immigration process can become. As such, in his practice he strives to
minimize the stress and uncertainty for his clients and ensure that they are provided with all the
necessary information to ease the process and safely navigate the complicated web of Canadian
immigration.
Mewded can also assist clients in Amharic.